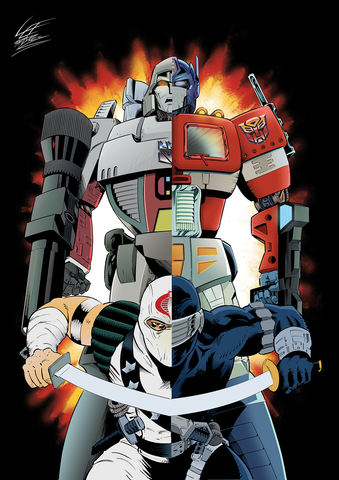 ROLL OUT ROLL CALL PRE-ORDER TRANSFORMERS / G.I. JOE - A3 PRINT BY LEE BRADLEY
This is a pre-order only for those attending:
Roll Out Roll Call in Fordingbridge, Hampshire, on 19th of November 2023.
Pre-ordering this item will be available for pick up at the event at the entry desk, when proof of identity is provided.
Artist Lee Bradley has created this phenomenal Transformers & G.I. Joe print  for attendees of Roll Out Roll Call. Featuring Megatron and Storm Shadow Vs Optimus Prime and Snake Eyes. Pre-order now and pick up your copy at the show. 
Limited to only 100 A3 prints, with proceeds of the sale helping raise funds for Wildlife Rescue - Moyles Court.

---
We Also Recommend