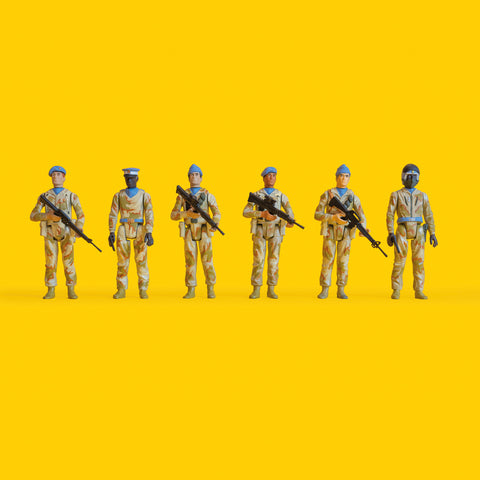 ROLL OUT ROLL CALL X NO MORE HEROES PERSPECTIVE SEPARATION FIGURE SET 1
Roll Out Roll Call X No More Heroes
Exclusive Custom Vintage Action Figure Set #1 Action Force Cadets.
Roll Out Roll Call have teamed up with No More Heroes to produce an amazing limited edition vintage custom action figure set using hand painted upcycled old Action Force toys.
Cadets are the entry level basic training into Action Force, before graduating into specific teams like Z or Q Force. As part of their training, they are often required to perform Peace Keeping duties for the United Nations.
In this set, there are 6 exclusive figures each carefully customised and hand-painted by No More Heroes. Each set includes the following:

Cadet Captain "Paladin"
Cadet Pilot
Cadet Trooper X 4
In addition, every purchase includes a vintage style presentation box (shipping costs will apply if order is not collected at the event.)
Please note, due to the unique hand-crafted nature there are painted, there maybe be small variances.
Limited Edition of 10 sets.
---
We Also Recommend