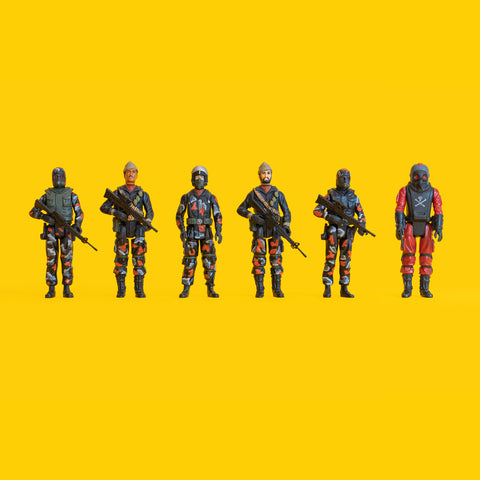 ROLL OUT ROLL CALL X NO MORE HEROES PERSPECTIVE SEPARATION FIGURE SET 2
Roll Out Roll Call X No More Heroes
Exclusive Custom Vintage Action Figure Set #2 The Anathema Echelon & Red Shrike
Roll Out Roll Call have teamed up with No More Heroes to produce an amazing limited edition vintage custom action figure set using hand painted upcycled old Action Force toys.
The Anathema Echelon is a Private Military Company formed of ex Action Force hardliners. These veterans who have turned their back on Action Force and the U.N. disillusioned that more direct action to vanquish their enemies was not taken when the opportunity arose. Now they are a team of vengeful Mercenaries with questionable ethics, they are not the bad guys, but they certainly aren't the good guys either.
There is a new member for The Enemy too, "The Butcher" Red Shrike, Red Wolf's chosen tail gunner for the Roboskull.

In this set, there are 6 exclusive figures each carefully customised and hand-painted by No More Heroes. Each set includes the following:
Flense
Coyote
Nose-Dive
Pummel
Animus
Red Shrike
In addition, every purchase includes a vintage style presentation box (shipping costs will apply if order is not collected at the event.)
Please note all final weapons and accessories for Set 2 will vary from what is shown from the principal photography above.
Please note, due to the unique hand-crafted nature there are painted, there maybe be small variances.
Limited Edition of 10 sets.
---
We Also Recommend